Essential Oils & Meditation
With our hectic lifestyle where we are constantly on the go and with such busy schedules packed with constant work, lack of sleep, insufficient rest, the need for meditation is more than ever required. The practice of meditation promotes mental clarity, spiritual cleaning, relaxation and calmness to the mind. It reduces stress and anxiety which has become a constant aspect of our lives. Therefore in recent times, meditation has gained popularity as it helps to calm the mind and bring about focus.
Benefits of using Essential Oils during Meditation
Essential oils help to concentrate, ground and focus the mind. They are also known reduce stress and anxiety and bring about calmness. They help to eliminate negative feelings and encourages insightfulness, positivity, determination, gratitude and self-respect. The aroma helps to maintain focus and creates a calming environment
We suggest using best quality essential oils for improving meditation as fragrances or lower quality oils do not have same therapeutic benefits.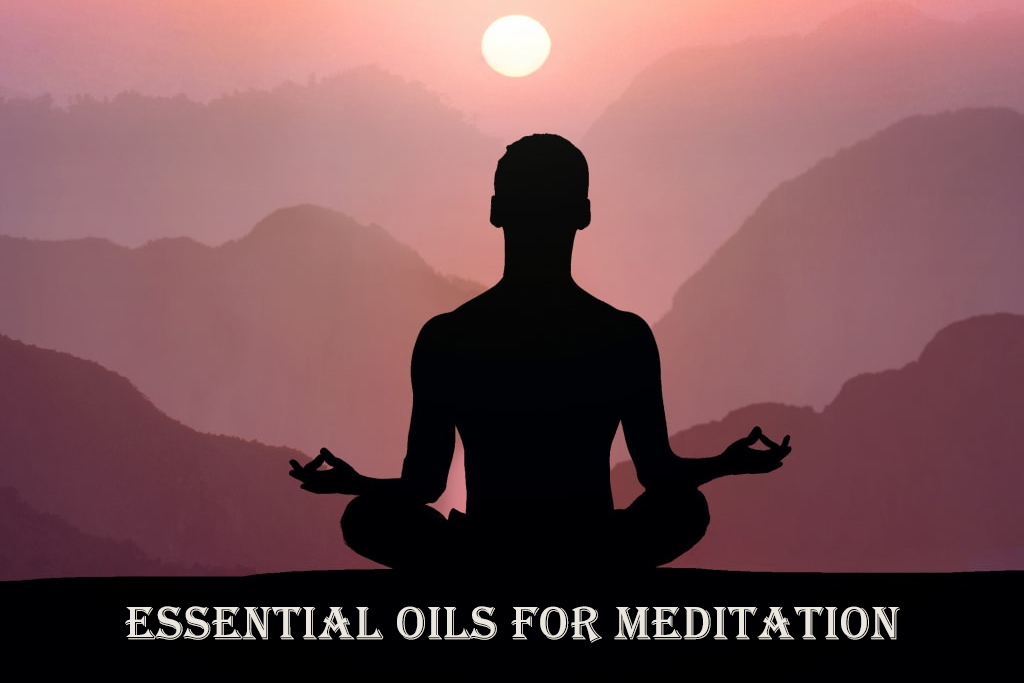 Best Essential Oils for Meditation
Essential oils which are ideal for meditation are those which bring about clarity and calmness. They create an ambience with their aroma. The list which we have listed here is not an exhaustive list but those which are commonly used during meditation, yoga and other forms of mindfulness rituals.
How to use Essential Oil for Meditation
Incorporating essential oils in your meditative routine will help clear your mind and improve focus. It can clear out negative energies and mind talk which distracts from achieving mindfulness and enlightenment. There are couple of methods of how you can use essential oils once you have decided which oil or blends to use.
Topical Application
Mix few drops of essential oil in a carrier oil and apply few drops of this mixture on the pulse points such as wrist or inner elbow. Those who believe in third eye, can apply few drops here and massage softly. You can also rub them in your palms for self-inhalation. If there is any soreness or pain in the body, you can massage on these areas to shift the focus of mind from bodily pains and enhance mental focus on meditation. Always dilute essential oils in a carrier oil before applying on the body.
Diffuser
This is the most common method of using essential oils during meditation. You can diffuse your choice or essential oils or blend in a diffuser for an ambient atmosphere which will inculcate focus and stimulate senses.
There are different types of diffuser available in the market today like Candle Diffuser, Electric Diffuser, steam diffuser etc.
Room spray
You can spray the room with essential oil mist or room spray for enhanced atmosphere and soothing aroma in the room.
Caution:
All essential oils are for external use only.
Never apply essential oils directly on the body and you should always dilute them with a carrier oil before applying. Maximum dilution of essential oils should be 3 %.
Patch test is recommended before applying them on larger areas.
Pregnant and breast feeding women should always consult with medical practitioner as they may have effects on certain hormone secretions
The oils should always be stored away from reach of children and pets
Bottom Line
Essential oils are useful for creating a positive ambience for a good meditation experience. They help to soothe body and calm mind and helps towards enlightenment when used during meditation. The choice of essential oils depends on your mood of the day and it may vary by the day or the intention you are for focussing on.
Disclaimer: The information provided on this page is for informational and educational purposes. I am not a medical professional and highly recommend consulting a doctor before using essential oils as part of any medical treatment.