DIY ANTI-AGING NIGHT CREAM
Ever wondered how some people get that glowing skin? With age, our skin gets withered and wrinkled. Thanks to our technological lifestyle, poor eating habits and lack of sleep, we invite dull skin and dark circles.
Its never too late to start taking care of your skin. Whether you are 20 or 40 years old, anti-aging creams are a must have in your vanity. Apart from correcting our lifestyle and diet, anti-aging creams can actually do wonders.
The anti-aging cream which you use doesn't have to be loaded with harmful or artificial chemicals. Infact, the most effective and anti-aging remedies are found in nature's pure ingredients. This cream has ingredients which help reduce signs of aging and boosts blood circulation which is a key step to a good skin.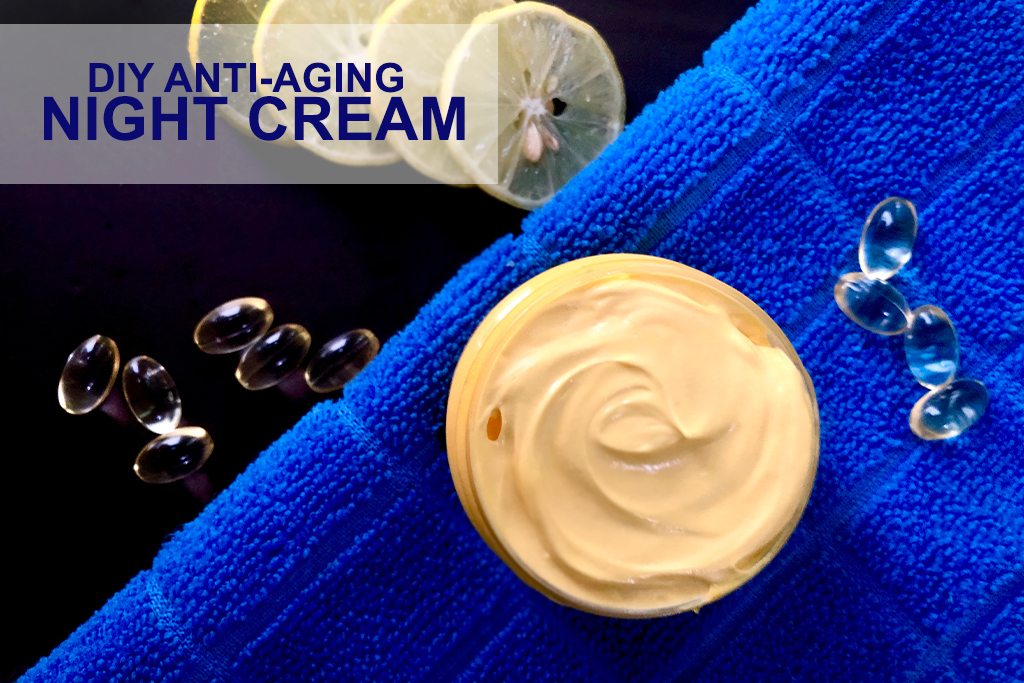 KNOW YOUR INGREDIENTS
Sweet Almond Oil is an emollient which means it makes skin softer. It is known to soothe and rejuvenate skin, improves complexion and skin tone. The antioxidants present in this oil help fight free radicals which makes skin dull.
Rosehip Seed Oil antioxidant properties are known for anti-aging. It is high in Vitamin A and Vitamin C which are perfect for removing fine lines and wrinkles. Rosehip oil is also known to promote healthy skin cell generation.
Shea Butter is a rich butter which is soothing to the skin and is rich in anti-aging Vitamin E which nourishes skin deeply and helps fight signs of aging. It also contains Vitamin A which helps reduce many skin conditions like wrinkles, acne, blemishes and eczema.
Cocoa Butter is a wonder ingredient as it helps to lock the moisture and protects the skin from oxidative stress. It moisturizes dry flaky skin and heals irritated acne-sensitive skin. The thick consistency of cocoa butter gives products smooth texture and stabilizes natural products.
Frankincense Essential Oil does a wonderful job at balancing oil or dryness in the skin. It helps regenerate damaged cells. Since our skin constantly gets damaged by exposure to sun and pollution, it needs all the extra love it can get.
Lemon Essential Oil helps to banish wrinkles, clears the skin and helps to boost circulation. Lemon oil has brightening effect and mild bleaching effect of age spots which helps to restore the tone of the skin and gives a more youthful skin.
Rose Geranium Essential Oil is one of the most potent essential oils for fighting signs of aging and wrinkles. It helps regenerate new cells and make the skin firm. It also help reduce dark circles and age spots.
Carrot seed Essential Oil is very good for aging skin. It is known to remove wrinkles and rejuvenate skin. It contains skin mending Vitamin A, collagen boosting Vitamin C and moisturizing Vitamin E which helps to smooth lines and repair sun damage and scars.
Vitamin E is a key ingredient in this night cream. It is an essential nutrient required by the body but often we don't get enough of it. It is an antioxidant which help fight free radicals. It also acts as preservative in natural products.
DIY ANTI-AGING NIGHT CREAM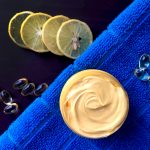 Print Recipe
DIY ANTI-AGING NIGHT CREAM
Instructions
Add Cocoa butter, Shea butter to a medium size bowl. Place this bowl on top of a saucepan half full of water to make a double boiler.

Let the mixture cool for 30 minutes in fridge or until creamy looking but not solid.

Blend the mixture until it's a thick lotion.

Store in a glass jar and apply daily at night.  
Notes
Always try to source organic or wild harvested essential oils that come from sustainably sourced and fair-trade companies.
Since it does not contain preservatives it can be used for 2-3 months. Store in a cool dry place away from sunlight.
Always do a patch test before applying.
RISK & SIDE EFFECTS
Essential oils are only for external use and should never be ingested
Store essential oils out of reach of children and store them apart from other products. Some essential oils can be fatal to pets and therefore always research before using them
Essential oils must ALWAYS be diluted before applying on skin as they are highly concentrated as can cause irritation. You can dilute them in carrier oil of your choice and the max concentration of essential oils should be 3-4%
Always do a patch test before applying on larger areas of skin
Do not apply Lemon Oil during the day if you are going out in the skin as it can cause skin sensitivity and irritation.
It is unclear what effects essential oils have on pregnant and breastfeeding women. While some consider them safe, many doctors advice pregnant women to avoid use of essential oils
Always buy pure essential oils and stay away from fake counterparts as they wont contain same therapeutic benefits
TAKEAWAY
Turn back the clock with this anti-aging night cream which help fight wrinkles and promote healthy skin. It is loaded with goodness of essential oils and butters. This anti-aging cream uses ingredients which have shown the ability to reduce and prevent appearance of wrinkles and aging skin. Apply this cream daily at night before sleeping to get youthful and supple skin.
Disclaimer: I am not a medical professional nor chemical formulator or pharmacist. This is the DIY recipe I use personally for anti-aging. Please use at your own risk.
Know more about Essential oils and Carrier Oils to reverse signs of Aging