With the current situation in which the entire world is fighting against corona virus, it is very important that we keep ourselves healthy and keep our immune system strong. A low immune system will not be able to support your body's natural defenses and keep you healthy.
Vitamins and Minerals can boost your immune systems natural responses, but essential oils can also play a very significant role in improving your overall health. Many essential oils are antiviral, anti-fungal or antibacterial and each of these properties helps your immune system function properly by eradicating harmful pathogens which make people sick. These natural remedies can help keep your body at natural optimal health level all year round.
Instead of stocking your medicine cabinet with over the counter medications and supplements, why not try these natural approaches to prevent from falling ill in the first place!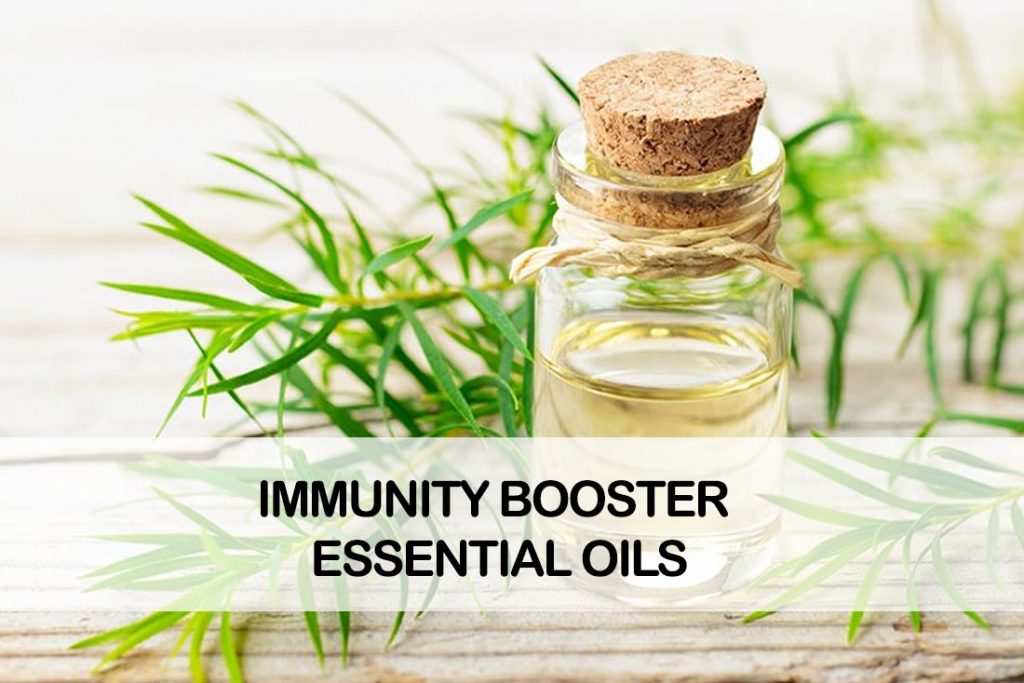 Best Essential Oils that help build immunity
Tea Tree Oil : Tea Tree oil is a versatile oil which is known for its antimicrobial properties and therefore it helps to kill microbes and bacteria that interacts with your body on daily basis.
How to use: You can diffuse few drops of Tea Tree oil in your home or office to make good use of its immune boosting properties. You can also add few drops of Tea Tree oil mixed in Jojoba oil and apply on your chest to help clear sinuses quickly as it works as an effective decongestant and expectorant.
Eucalyptus Oil: On days when you feel extremely tired when you start to become under the weather, Eucalyptus oil helps to energize your body and combats exhaustion and fatigue simultaneously.
How to use: You can diffuse few drops of Eucalyptus oil in the diffuser or mix 2-3 drops in 1 tablespoon carrier oil and apply on your chest and feet.
Rosemary Oil: Rosemary essential oil may be able to help relieve stuffy nose or sinus headache as it provides great boost to your immune system and also help loosen some mucus clogging your nasal passage. Diffusing this oil on daily basis is a great way to harness our body's immune boosting potential.
How to use: Mix 2-3 drops of Rosemary essential oil in 1 tablespoon carrier oil , (like Jojoba) and rub in your hand. Now cover your mouth and nose with your hands and breathe in. This is a great way if diffusing the oil isn't proving powerful enough solution.
Lemon Oil: Lemon essential oil has antibacterial and antiviral properties which can help in making the body immune and thus make you less prone to illness.
How to use: You can diffuse few drops of lemon oil in a diffuser to allow this citrus oil do its magic. Steaming with lemon oil can also be a powerful way to clear sinuses. In a pot of steaming water, add 5-10 drops of lemon essential oil and inhale the steam. You can also make multipurpose household cleaner by adding 10-20 drops of Lemon Essential oil in one cup white vinegar and one cup of water in a spray bottle. This is a great household cleaner which can help combat germs right in their tracks.
Oregano oil: Oregano essential oil has antimicrobial and antibacterial properties which makes it a great oil for eliminating viruses which make it through your immune system's defences. You can use it on daily basis to help strengthen your immunity and prevent illness.
How to use: Diffusing Oregano oil may help relieve symptoms of cold including stuffy nose and stubborn cough. You can also mix 3-4 drops of Oregano oil with 1 tablespoon Jojoba oil and massage into the soles to help bolster your immune system.
Frankincense Oil: Frankincense essential oil is a potent immune system booster on a cellular level as it aids the body in creating additional white blood cells which help combat harmful pathogens and diseases.
How to use: Diffuse few drops of Frankincense oil in a diffuser or put 2-3 drops on a cotton ball and sniff to get rid of cold and flu.
Caution:
Always dilute essential oils in carrier oil before use
Do a skin patch test in order to check for any allergies
Consider essential oil dosage (it should not increase 3-4% in the blend)
Pregnant, breastfeeding women please refrain from using essential oils
Store essential oils away from direct sunlight and keep them out of children and pets reach.
To Conclude
There are many factors which can negatively impact our immune system like lack of quality sleep and exercise, poor diet, toxin exposure and stress which can have negative impact on our immunity and overall health. Therefore it is important to make sure that we are doing all we can to support our immunity. Essential oils offer an alternative approach to boost our immunity without having any harmful side effects. These essential oils not only smell wonderful but also serves the purpose of boosting our immune system.